Poppy PR is delighted to have won a Business Masters gong at one of the most prestigious business awards events in the East Midlands.
Founded by Tina Clough in 2010, the firm landed top prize in the Creative & Media category at a glittering event held at Nottingham's Crowne Plaza hotel last night (Thursday, October 19).
The annual Business Masters Awards, organised by regional business news hub TheBusinessDesk.com, was attended by more than 300 guests, many of them vying for one of the 19 individual awards.
The Creative & Media award is the culmination of some major client successes for Poppy PR over the past 12 months.
Our solid reputation for excellent writing, strategic advice and customer service led to Tina recently bringing in new business partner Phil Stubbs to help take us to our next stage of growth.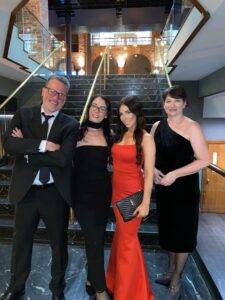 Tina said: "What a fantastic evening! It was just amazing, and so well organised. We were so delighted to have been shortlisted alongside some incredibly strong competition, so to say I am proud to have won the award would be a huge understatement.
"The entire team at Poppy PR has worked really hard to get us to the point where we've been named best creative and media firm in the East Midlands.
"Bringing Phil in as business partner was a great decision. His knowledge and expertise have really helped to make our growth seamless.
"Business is booming, our clients are happy and we hope winning this award will give us an even bigger stage to do more great work for more great clients."
Tina's reputation as a business leader was reinforced earlier this year when she was invited to present the weekly Business Show on Erewash Sound radio, where she interviews other business figures around the East Midlands.
Poppy PR's clients include Derby-based Hodgkinson Builders, whose team have featured on BBC TV documentary Brickies, housebuilder Peter James Homes, Nottingham packaging giant the Wilkins Group and the UK's fastest-growing doughnut brand Project D.
Another client, Coalville-based Abacus Flooring Solutions, also won a Business Masters Award, in the Start-up category, and net zero firm Viridis Building Services narrowly missed out after being shortlisted in the Fast Growth Business category.
Phil said: "It was great to share our clients' successes on such a brilliant night for regional business. All our hard work has paid off, and we hope that it will open up a few new doors as we enter our next chapter at Poppy PR."