DIY SOS is due to hit our screens tonight, and team Poppy-PR were at the forefront of the action, as hundreds of warm-hearted individuals upped tools and headed for the Treetops Hospice in Risley.
Lifetime friendships were made, celebrity sightings became the norm and strangers pulled together for a common goal.
Here our managing director Tina Clough talks about the camaraderie on site and a 10-day period that will remain in her memory forever.
Running Poppy-PR over the last 13 years has provided me with many proud moments. I feel genuinely blessed to have experienced some truly remarkable things, and for that I will be forever grateful. The DIY SOS: Big Build project at the Treetops Hospice, in Risley, is firmly placed in my top five PR moments of all time.
Over the last eight years, we have been the PR agency of choice for Ian Hodgkinson and, during our relationship with him, his business has gone from strength to strength.
From the day he walked into our former Ilkeston-based office back in 2016, with his huge personality and wicked sense of humour, it was clear that we would strike up not just an amazing working relationship but a friendship that led to him being the first person I saw as I walked down the aisle to marry my husband!
PR throws you into some surreal situations, and many of our clients become friends of ours. We care about them, and we genuinely want their businesses to grow. When they win awards, we are there championing them, when they get featured in the press, it is still a huge buzz for us too.
Over the years we have watched Ian land his own hit BBC TV series called Brickies, and then land the top spot for any tradesperson on TV – the role of project manager on DIY SOS!
This year, the Big Build for Children in Need happened to be in our backyard (and his!) and it opened up a raft of opportunities for our clients!
We set up opportunities for Palace Chemicals to provide building products and assist with the tiling on site. We gave our own time to paint, hoover and run errands over the 10-day period. Project D made limited edition DIY SOS doughnuts and brought the pink van down – and we later managed to get others involved too (more on this later!).
We turned up on Day One with Simon Clough and James Broadhead from Palace Chemicals in what can only be described as biblical rain.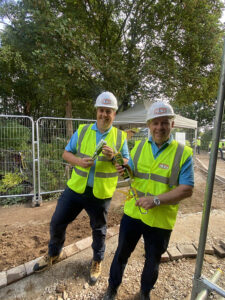 Despite the terribly muddy and wet conditions, spirits were certainly not dampened and, within a few minutes of arriving on site, the lovely Richie Anderson beamed at me, and we spent no time at all in discussing our choice of pink workwear. I knew the pink hard hat was a good idea!
We turned around and Gaby, Nick and the crew were all doing what they do best, and the site was a hive of activity. For those of you wondering, these DIY SOS sites are most certainly genuine building sites, and everyone has to have a full health and safety briefing.
On Day One, I truly thought to myself 'There is absolutely no way on this earth that they will complete this building in 10 days'. The team started with an empty field!
One of the best things for me on this project was that I got to spend lots of time with my dad – the aforementioned Simon Clough. Sure, we see each other a lot, but usually there are other family members around, I am running around after my little girl, or we are busy living our lives.
Palace Chemicals, based in Liverpool, provides tiling products, flooring products and decorating sundries to builders' merchants, construction companies and end-users all over the UK. The company is one of the biggest manufacturers of building products in the UK and they have been around for over 45 years! The team there generously offered ready mixed filler, white silicone, PVA adhesive, decorators caulk, wallpaper paste and skeleton guns, to name just a few items they kindly donated to the build.
Throughout the week we met Zoe Ball, who later gave me a shout out on Radio 2 (you cannot make it up!) and featured a beautiful bracelet I gave to her on behalf of Letterbox Love (a Derbyshire bracelet chosen specifically for her). We also had the privilege of meeting Scott Mills, Owain Wyn Evans (who is a giggle-a-minute), and we were gutted to have missed Sam Ryder and Jeremy Vine!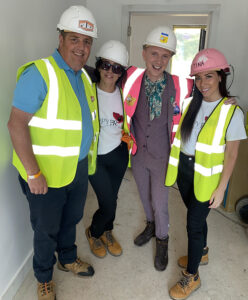 Another highlight for us was watching the pink Project D van turn up to keep the workers fuelled with limited edition DIY SOS doughnuts. Then there was the grand finale which saw us all dancing in hard hats to an exclusive performance from none other than Sophie Ellis Bexter! Our Katie had a field day making video content, which I am sure you will be bombarded by over the next few days!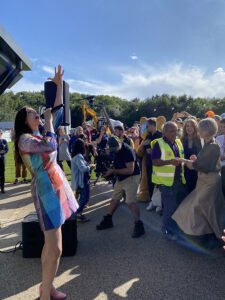 Towards the end of the build, we managed to create introductions for clients too, as the lovely Nick Megson at Abacus Flooring Solutions came on site to meet Ian, Simon, and James.
When I came home at the end of the project, the sense of pride at what we had all achieved was huge. I stood in my kitchen at home, and I was extremely emotional that we had managed to be involved in such a huge programme. It was a project that will genuinely improve people's lives locally, and the new building will allow the Treetops team to offer counselling services to many more bereaved young people than ever before.
If you ever get the opportunity to be involved in a DIY SOS project, my only advice would be to stop thinking about it and just do it! For me, I hope to be involved again someday, and in the meantime I have agreed to run the Derby 10k for the team at Treetops. Stay tuned on how to support my efforts very soon.
DIY SOS was aired on BBC1 on November 16, 2023 at 9pm.