The Magic of Awards! The Glitz, The Glam (and the press coverage!)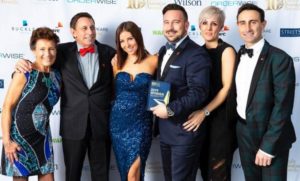 Before Christmas, The Wilkins Group was crowned 'Family Business of the Year' at the 10th Midlands Family Business Awards.
The Wilkins Group specialises in the printing of folding cartons and packaging for a range of industries and brands worldwide, and employs over 500 people operating from five global sites in Nottingham, Romania, China, Sri Lanka and Bangladesh.
The firm has a head office in Colwick, and has used Poppy-PR for its marketing and PR services over the last five years. This awards submission was just one of our projects for the firm- and we won!
Attended by over 350 guests – including awards finalists, independent judges and sponsors – the awards were bigger than ever as attendees celebrated not just the achievements of the family businesses but also the milestone of the awards; reaching its tenth year of championing family businesses.
Since winning this highly regarded award, our clients have been visited by BBC Radio Derby, who spent over an hour having a tour around the factory for a feature, they have been visited by Packaging News (their main trade magazine), and they have been invited to contribute towards the 2020 Parliamentary Review! What an outcome!!